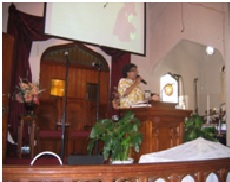 "Right Way" Ministries International Inc. was a vision birthed by God into the heart of Dr. Estelle Gross (now Cyrus) in 1983. The "Right Way" team continues to praise God for the doors that continue to open. It takes more than just praying that God's kingdom would come on earth as it is in heaven. In the past 30 years, God has provided the various servants who have been willing to share their gifts and talents to assist in taking the Word to the world.
Moving by faith in the call of God, Estelle would be the first one to tell you that she did not do it. Surrounded by a prayer chain of Christians who knew the value of prayer, they joined forces in "The Prayer of Agreement" and together watched God honor His word (Matthew 18:19). No vision of God will come to pass without prayer that will bind the enemy and open the way for God to perform His will on earth.
As Christians desiring to be a part of what God was doing joined the team, God showed Himself strong. God opened doors across denominational lines in the District of Columbia, Virginia, and Maryland. In less than two years, God opened the door for ministry in the Philippines. Invited to conduct training on "Victorious Praying" in the various churches, led to other opened doors. Estelle realized that this was more than one person could do. In 1988, Estelle took her first team to the Philippines: Michael Martin and the Voices. In the years following, many teams have accompanied Dr. Gross Cyrus. Pastors, church leaders, and singers were willing to become short-term missionaries for the advancement of the gospel.
We asked Dr. Estelle Gross Cyrus what has been the biggest challenge in this journey of experiencing God transform His vision into reality. Her response: "The efforts of keeping up with the technology that will help us reach more people around the world with the Word. In addition, it has been trusting God to provide. We have not had any fund raising events in five years. At years' end, we inform our friends of our goals and depend on God to touch their hearts to give. God has not failed us."
The vision continues to expand as "Right Way" is receiving more requests from around the world. We also desire to do more on the home front.