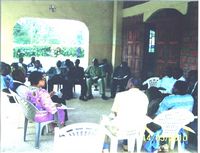 Dr. Estelle Gross Cyrus at the 2010 pastor's training in Kenya, Africa
Prayer is the Answer
Dr. Estelle Gross Cyrus loves to teach the Word so individuals can understand God's will and apply it to their lives. One of her passions is that the entire body of Christ would take advantage of their relationship with God through prayer.
Understanding that "The effectual fervent prayer of a righteous man availeth much" (James 5:16b KJV) and that prayer places one on the spiritual battlefield, Dr. Cyrus has developed several workshops. These workshops help believers to stand their ground while in the heat of the battle. "Spiritual Warfare;" "Resisting Satan's Plans;" "The Path to Answered Prayer;" "The Prayer of Agreement;" and "Being Steadfast in the Storms of Life" are a few of her workshops. Dr. Cyrus is always willing to develop specialized training programs according to your needs.
To schedule a workshop, contact: "Right Way" Ministries International, Inc., P. O. Box 2256, Glen Burnie, MD 21061; phone numbers: (410) 255-1828 or (410) 878-6332.
Dr. Cyrus' second book, "The Prayer of Agreement" can be purchased from Amazon.com or direct from the publisher, Xulon Press, if being purchased by a church or Christian organization. At Xulon Press, contact Mr. Jason Fletcher at (866) 381-2665 ext. 1163.